Daniel Dalfovo is a Media Artist based in Berlin. After his studies at the University of the Arts his work focused around the intersection of art, technology and society. From this interdisciplinary genre grew a body of work and collaborations with internationally renowned artist, research institutions and design studios. Additionally Daniel Dalfovo taught at multiple universities, ranging from Moscow and Shanghai to Berlin. Next to his work as Media Artist he recently founded ATELIER-E, a multi-disciplinary studio for creative technologies and new media.
Since more than 10 years Daniel Dalfovo develops new media art, concepts and software. At the source of his creations lives a critical enthusiasm and fascination for merely discovered technologies. Thus, a lot of his work is a socio-technological comment or speculation towards near-future scenarios.
From audio-visual performances and interactive installations to aesthetic research and data driven design, his work lives and unfolds with and in space. With a strong computational design approach his interests lie in the investigation of new technologies and their immanent tone and presence. Consequently Daniel Dalfovo uses a variety of different approaches, whether using light as medium or space expanding video-projections, his artistic work is a constant exploration and experiment.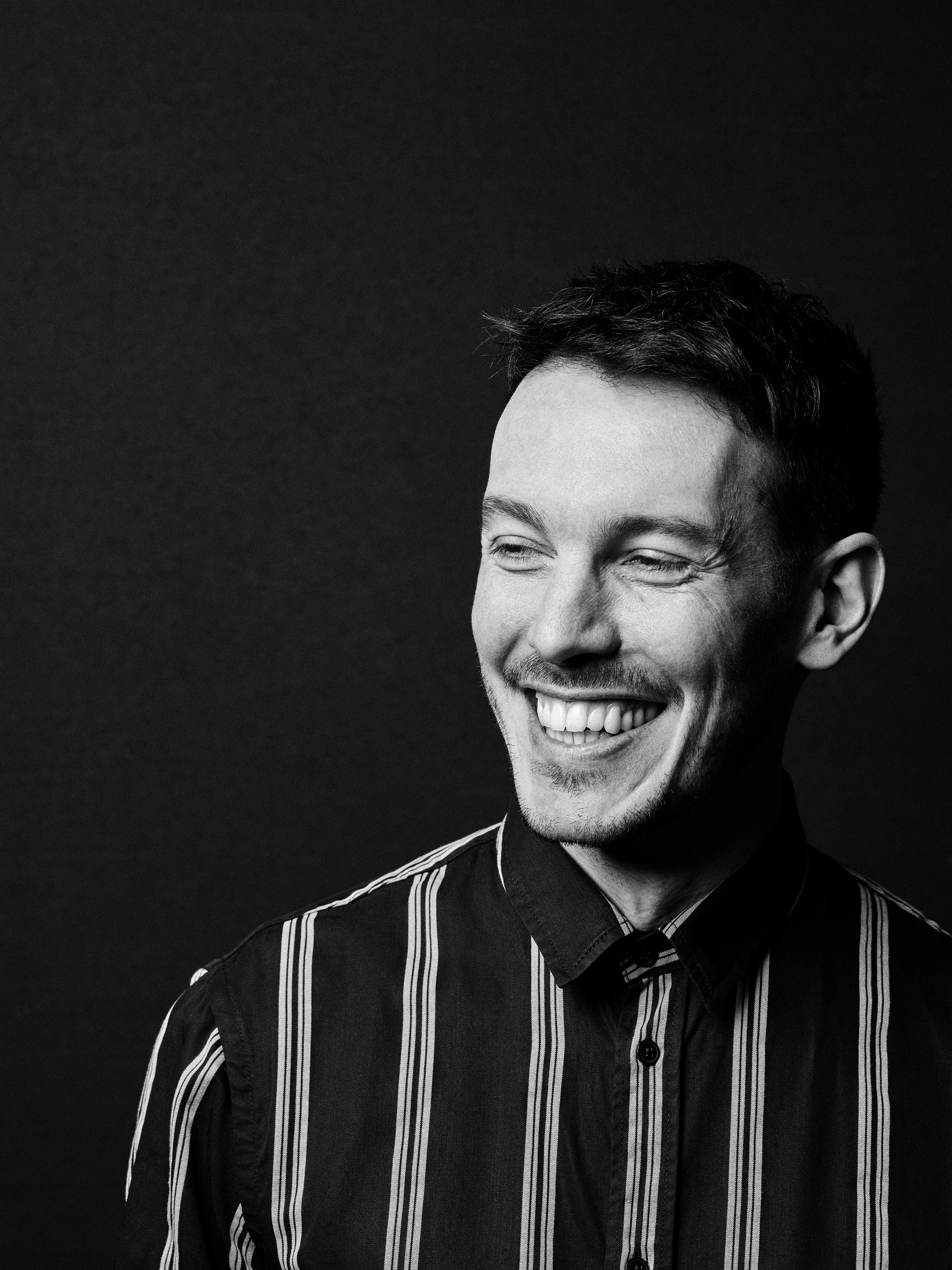 Exhibitions
"Autopoiesis" | ZKM Karlsruhe, Renaissance 3.0 | Karlsruhe 2023
"LOOM" | HOLON, CTM Festival | Berlin, 2023
"BRAINPATTERNS" | ARS Electronica | Linz, 2022
"D-I-E" | JUGB Space | Cologne, 2022
"LOOM" | FUTUR_21 | Bocholt, 2022
"BRAINPALACE II" | STATE Gallery | Berlin, 2021
"D-I-E" | Ruhrtriennale | Duisburg, 2021
"Plug Bug" | D&I Tongji University | Shanghai, 2020
"BRAINPALACE I" | STATE Gallery | Berlin, 2020
"HDDs" | Chaos Computer Congress | Leipzig, 2019
"Screw Lock" | Hybrid Plattform | Berlin, 2014
"Screw Lock" | Purmundus | Frankfurt, 2014
"Data's Celebratory Takeoff" | Designtransfer | Berlin, 2013
"Data's Celebratory Takeoff" | PARSONS | New York, 2012
"Cablegate" | Networked Plattforms | Berlin, 2011
Talks, Workshops
"Real World XYZ" | Talk | The Node Institute, TD Roundtable | Monopol, Berlin, 2023
"Lasers" | Online Talk | Music Hack Space | Internet, 2022
"Rendering Point Clouds" | Workshop | Bright Festival | Leipzig, 2021
"QURATOR – AI Curation Tools" | Workshop | Fraunhofer Gesellschaft (as ART+COM employee) | Berlin, 2020
"Master Class: Creative use of Lasers" | Workshop | Circle of Light | Moscow, 2018
"Don't Plan But Prepare" | Talk | Circle of Light | Moscow, 201
"At the edge of uncertainty" | Talk | TouchDesigner Summit | Berlin, 2018
"Screw Lock" | Talk | Maketech X | Berlin, 2014
"I Found Playground" | Talk | CrossLab WdKA | Rotterdam, 2012
"Interactive Installations" | Workshop | D&I Tongji University | Shanghai, 2012
Teaching
"Sensing Position" | University of the Arts Berlin, Advanced Class New Media | Berlin, 2019 - 2020
"TouchDesigner – A visual development platform" | HS Magdeburg, MA Interaction Design | Magdeburg, 2018 - 2019
"Advanced Class New Media" - Tutor | University of the Arts Berlin, Advanced Class New Media | Berlin, 2012 - 2014
"Interactive Light" | Bauhaus University | Dessau, 2013

Academic Education
2012 – 2015 | University of the Arts Berlin, Digital Class, Prof. Joachim Sauter + Prof. Jussi Ängeslevä (Diploma, Grade: 1.0)
2011 – 2012 | Willem de Kooning Academy Rotterdam, Grafische Ontwerper (Erasmus-Program)
2008 – 2011 | University of the Arts Berlin, Digital Basics, Prof. Kora Kimpel (Pre-Diploma, Grade: 1.3)
2007 – 2008 | BTEC Diploma in Art & Design, University East-Midlands, UK (BTEC-Diploma, Grade: Special Merit)
2007 | Abitur Klenze-Gymnasium Munich (Maths: 14/15 Points)
Work Experience
2021 – 20XX | ATELIER E | Co-Founder alongside Christian Losert | Audio-Visual Scenography
2019 – 2020 | ART+COM: Research Department | Artificial Intelligence, Artistic Development
2014 – 2018 | WHITEvoid & Christopher Bauder | Kinetic Installations, Creative Coding, Computational Design
Selected Contributions
"D·I·E" | Albert Oehlen, Rainald Goetz, Michael Wertmüller, Anika Rutkovsky, Thomas Stammer | Ruhrtriennale 21 | Duisburg, 2021 → More Info
"Particular Matter" | Tomás Saraceno | Berlin, 2020 → More Info
"SKALAR" | Christopher Bauder & Kangding Ray | CTM Berlin, Kraftwerk, 2018 → More Info
"Deep Web" | Christopher Bauder & Robert Henke | Fête des Lumières, Lyon, 2017 → More Info
Feel free to contact at any time
M → desk@danieldalfovo.de
P → +491797730155
ATELIER E • Daniel Dalfovo
Paul-Lincke-Ufer 8E
10999 Berlin